We had this gate...
We have this gate that we used to keep Rowan out of the kitchen. It hasn't seen much use lately because there's no way we can turn Niall loose in the dining room - what with all my sewing stuff in there. It would just be a bad idea if he got in to all of that.
So today we had a new development.
Pictures tell the story pretty well. Note how he keeps checking to make sure John isn't yelling at him for doing this.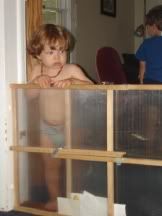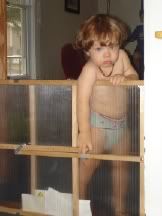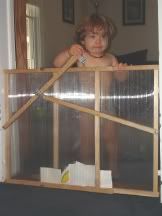 Ya. He's not going to be 2 until December. Ya. Everything you're thinking about how much trouble we're in is true. Niall is THAT baby. The one you've heard about. The reason the bookcases are bolted to the walls. The reason they make babygates in the first place. We have him, and he's on sale now for...

:)

So now we've moved the old block-the-kitchen-off gate to where the now defunct gate used to be. We'll see how long it lasts